Springboard Shelters for Homeless Assembled in Georgetown, DE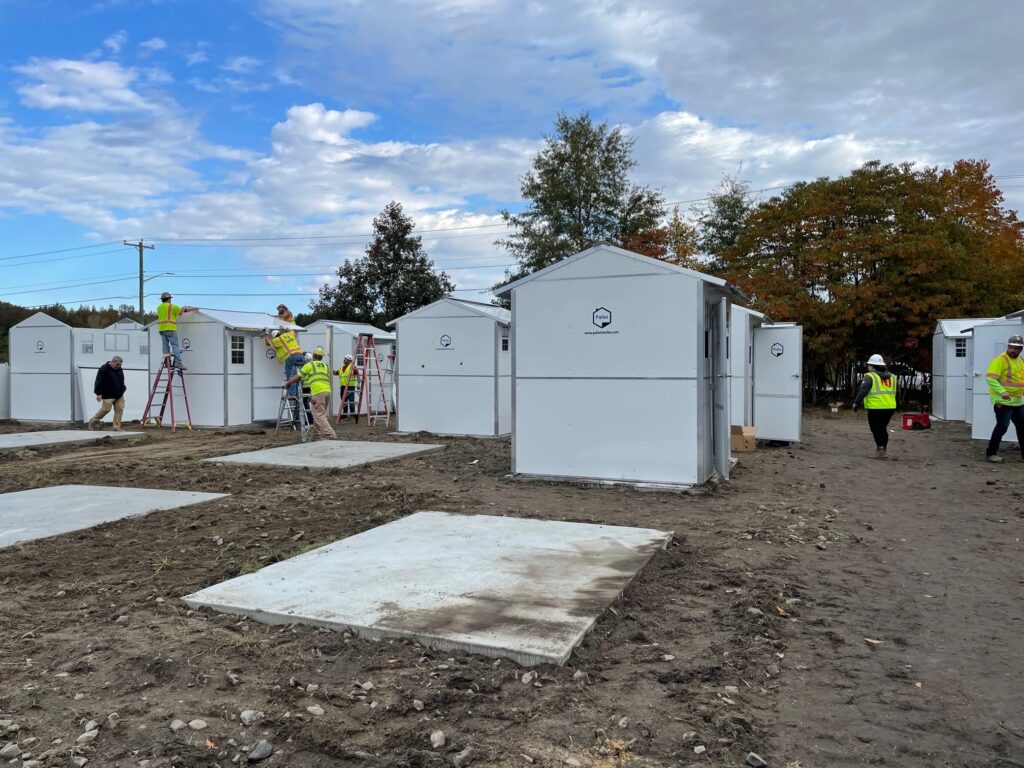 GEORGETOWN, DE–  Sussex County will soon join more than 80 other communities nationwide with an innovative approach to address homelessness.
Supported largely by private donations and volunteer help, the Georgetown Pallet Shelter Village is now being erected on an acre of land owned by First State Community Action Agency.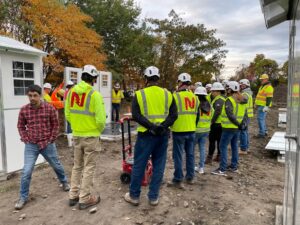 "Having the shelters in place, along with sewer, water and electricity,  before winter arrives has been our first priority," said Judson Malone, executive director of Springboard. Malone noted that support from Preston Schell, president of Ocean Atlantic, was critical to meeting that deadline as the project awaits promised American Rescue Plan funding.
Next on the drawing board will be the construction of a community center for meal delivery, staff offices and group meetings;  until then, a  large heated tent will serve as a temporary center.
The Village concept will provide personal housing and intense case management services for up to 60 homeless individuals now living in and around Georgetown.
Results seen at dozens of similar villages show about 60% of those served will achieve self-sufficiency – including employment and housing – within 6 months of entering the Village.
"This is a demonstration program, designed to show state,  county and local officials how tax dollars can be better deployed for intervention than only emergency services for the homeless," said Malone.
The Village is partnering with a number of local agencies to provide the health, education and guidance services required for participants. These include First State, Beebe Healthcare, Georgetown Police and Public Library, La Red Health Center, Brandywine Counseling and Community Services and a variety of state agencies. It is also now fully staffed by case workers,  security personnel and operations personnel with years of experience working with the homeless.
Malone said private donations should fund operations at the Georgetown model for 2-3 years, after which significant public support will be required. Over that period,  he expects as many as 300 people to transition from homelessness to independent living at a cost of about $15,000 per person.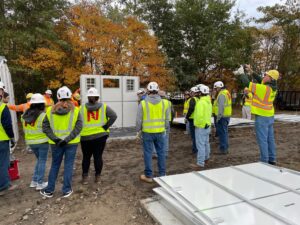 "We are fortunate to draw on the experience of many other villages in developing sound, workable policies, procedures and expectations," Malone said.
Malone noted the early support of Dogfish Head Brewery and, most recently, Nickle Electric and George & Lynch in assembling the shelters. Horizon Philanthropic Services assembled private funders, including Longwood and Laffey-McHugh Foundations, WSFS Bank and Highmark of Delaware, plus the support of Georgetown Town Council, which funded the purchase of the 40 shelters.
A campaign will soon be underway to help raise private donations for the Village's ongoing operational costs. For information about donations, interested parties can call 302-270-4996.
###